Printed Member Directory & Chamber Map
Every Chamber member business is listed both categorically and alphabetically in our printed directory, as part of their Chamber membership.
Starting in 2018, the Chamber began producing a standard magazine-sized directory, as both a business listing, and a recruitment tool, highlighting some of the facts and features of Campbell County.
Printed versions of our directory begin production in the second quarter of every year, with distribution after July 1. Copies are available for free for all Chamber members and are available to the general public.
Chamber members are asked every spring to update their business listing with the Chamber to be reflected in the printed directory.
The digital version of our Resource Guide is updated yearly along with the print version. Scroll through, download, and print on demand through issuu.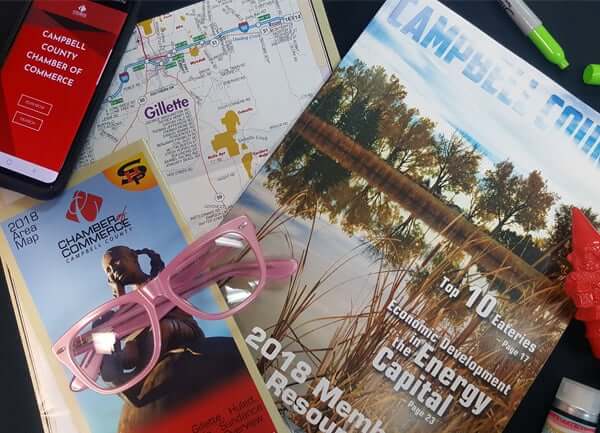 Starting in 2020, the Chamber began producing their full-size, full-color, fold-out road map, locally.
The Campbell County map is printed each year for both residents and visitors to Campbell County. It is distributed for free through the Chamber, Visitors Centers throughout the state, local hotels, and other member businesses.
It includes insert maps for Gillette, Wright, and even neighboring Hulett, created by our City and County geographic information system (GIS) departments.
Advertising placed in the printed directory will be reproduced on the annual map, along with some map-only advertisements.
Members interested in additional advertising in the printed directory or map can contact the Chamber at (307) 682-3673.